All reds are not the same! Who ever thought the search for the perfect red coat would be so hard. Sometimes I think the universe is against me when it comes to finding the perfect one. Red, specifically true red or blue-red, has been a difficult color to come by these last few years. It also doesn't help that I'm very particular about coats in general. I like a nice quality wool that will actually keep me warm. I'm willing to invest, but the recent style are all the wrong color for me. There is a lot of poppy, orange red, coral, and cherry red out there right now, all of which I find a little too garish for myself.
Example: The J. Crew stadium cloth wool trench. Lovely style, great wool, but I ordered a petite size (my regular size sold out quickly!) and the arms were too short and the front barely buttoned. Also, the maraschino cherry color was too bright for me. This went back immediately.
Some better looks:
Kirsten Dunst in Chloe. This color is lovely on blonds. P.S. Have you seen the clip of Lars Von Trier's Nazi moment at Cannes? Kirsten Dunst looked like she wanted to disappear!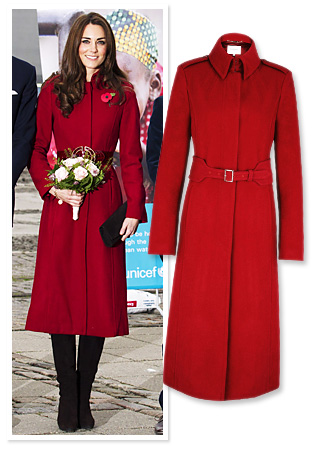 Kate Middleton. A lovely deep shade that's more up my alley.
Taylor Swift in crimson.
The Cherry Blossom Girl in a vintage number.