No, this is not a guide to teaching, but rather a list of physical necessities for the job. I'm not talking about the stand at the podium monologue with a laser pointer type teaching, but rather the 8 hours on your feet, interactive-type instruction that is hopefully going on in our public schools. Although pedagogy is important, according to Maslow's hierarchy of needs the first tier of the pyramid is Physiological, and I consider basic physical comfort to be important if you're going to be any good to your students (hello, architects who built the faculty bathroom up a flight of stairs on the second floor!). Some of these items could transition well to an office setting as well. So, I give you the list:
1. Easy to sip, non-spilling water bottle: Camelback Better Bottle .75 L


Judging from the number of these in faculty meetings I would say most teachers would agree with me that this is probably THE best water bottle for the job. There have been several ruined laptops on our campus from the spilling of various liquids but when this bottle falls over, not a drop goes astray.
2. Bluetooth, long range mouse: Logitec Anywhere Mouse MX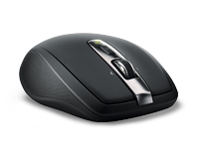 Much better than a laser pointer or remote. More convenient than a giant Smart Board in the room. Interactive and also great to use at your desk for the routine stuff like grading. And grading.
3. Shoes by any of the following brands: Dansko, Sofft, or Born.
Yes, these suckers can be ugly and expensive, but they are so worth it! They are comfortable, look professional, and they last forever. I had the pair of Danskos pictured above and they lasted me a year and a half walking through flooded streets and monsoons in the Philippines. If you don't want plantar fascitis, fallen arches, or other foot related maladies I strongly suggest you invest in a pair. Knowing our paychecks here in Utah, that investment may take longer than in other states, but still, do it. Your feet will thank you and your students will appreciate the attention that you can give them because you can actually walk around to help them instead of sitting in your desk all day because you can't walk in those stilettos. These companies also make shoes for men.
4. 10 ft. extension cord. At least for a science teacher, this is a good tool. Our schools don't provide any, but when you have laptop carts, microscopes, and other electronic equipment, it's nice to not break anything, trip, or clothesline yourself because of taut cords around the classroom.
5. The other stuff (mostly for female teachers):
Long wearing lip gloss - I would suggest a lip stain with a gloss over it or a rich color from the Stila Lipglaze collection - there were some great mini packs of these at Urban Outfitters for a good price, but I'm not sure they're selling them anymore. Lip stick should be used only if it's super moisturizing since the air conditioning and heating in buildings creates flakiness. If you don't care about make-up go for some vaseline, or even better, Khiel's lip balm. The chapstick and Bonnie Bell stuff doesn't hold up.

Toothpicks or dental floss - the students don't want to see what you ate for lunch, and if they do, news of it will be circling the halls in a few hours.
Altoids or other strong mint - similar reasons for the toothpicks or dental floss
A good light reflecting concealer - Those florescent bulbs do evil things to the sleep deprived. Dior's Skinflash Radience Booster Pen is awesome as well as a similar product by Yves St. Lauren, but at $40 plus a pop (and I used mine up in one month) a teacher would be broke. Neutrogena makes a semi-decent one that can be picked up at the drugstore.
A black, long-sleeved cardigan - to match with everything and to layer over anything. I realized this week when it snowed that I all my cardigans are 3/4 length and I was freezing because the central heat is finicky at my school.
Hand lotion and hand sanitzing gel - so many kids, so many germs! I'm lucky because I have sinks in my room so I can use good old soap and water, but anyone else could and should use something to cleanse their mitts.
Another thing I like is my water hot pot and herbal peppermint tea sans sugar. Others might prefer their diet coke or coffee, but the peppermint wakes me up without causing me to burn out from lack of sugar or caffeine later in the day.

This is not a very glamorous post, but I figure it could be useful to some. Let's just say that teaching is not the most glamorous job at times, but those of us who do it love it, right?
*Click on Pictures for source.